Support your pet's overall health and wellbeing with Pet Releaf CBD Hemp Oil, considered by many scientists to be the                                                ULTIMATE SUPERFOOD. 

Chock full of nutrients, Pet Releaf CBD Hemp Oil provides a complete source of protein with all 20 amino acids as well as calcium, zinc, magnesium, and B vitamins. Hemp oil is rich in omega-3, 6 and 9s, as well as antioxidants like Vitamin E and beta carotene.
Pet Releaf CBD Hemp Oil can be used for both dogs and cats for a variety of ailments including:
Stress & Anxiety
Aging & Geriatric Support
Cancer & Seizures
Pain, Discomfort & Inflammation
Autoimmune Support
Hip & Joint Support
CBD Hemp Oil is NOT psychoactive and is NOT marijuana. It will not get your pets "high." It is 100% legal in all 50 states and is completely safe, even in large quantities.
Pet Releaf Hemp Oil is highly concentrated, made from organic, European-grown hemp plants.
Boost your pets health and wellness with Pet Releaf CBD Hemp Oil.
Available in a wide variety of products!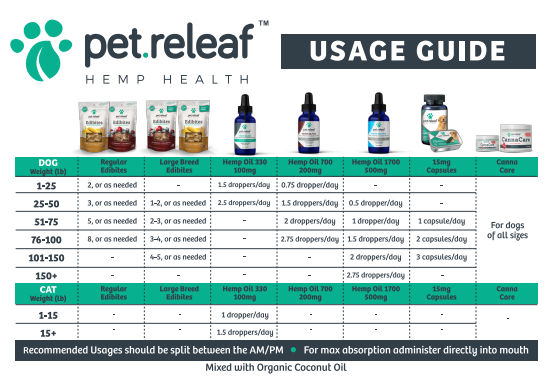 Please keep in mind:
If an animal has an existing pancreatic issue, it is advised that coconut oil (MCT) is not administered. Coconut oil is Pet Releaf's mixing agent and for that reason we recommend not using Pet Releaf products. We recommend consulting with a vet.
/